Old Bill Wagner
Jacob William (later dubbed "Old Bill") was born in 1840 in Elleringhausen, Germany. At the age of 6, he and his family joined the waves of German immigrants after their friends in Quincy, Illinois, kept writing for them to come. Six-year-old William took his little sister Henrietta by the hand and led her up the gangplank onto the ship. She never forgot the smell of tar coming from the cordage coiled on deck. They had with them 5 boxes and 1 barrel of clothing. They landed in New Orleans in December 19, 1846. He went on to fight in the Civil War and build half the town of Canton, Missouri. (scroll down for link)
2017 Update:
Recently I visited my cousin Russell Wagner in Chicago. We were chatting about the family history. Without a word Russell stood up walked over to a massive safe covered in photos next to me. He pulled something out and unwrapped it and placed a pistol in my hands – "This was Old Bill's Civil War pistol." I was speechless!
Even if you're not directly related, you will probably enjoy this – it has some amazing stories and a lot of history lessons that are keenly applicable to what is going on today in our world (I have the news on in the background right now about the events in Charlottesville, Virginia.)
If you've already downloaded and read this PDF, I highly recommend you REDOWNLOAD and read the new sections on "Old Bill's Civil War Pistol", "Tragical Death: Brother Fred accidentally shoots himself" (I added info about the other gun here), "Brother John and the Texas Widow" and "Brother Henry moves to Montana." They are really interesting stories. Brother John and the Texas Widow is something out of a western movie with deputies and murders.
2020 update: Ben Wagner sent me some scans from his father's photo collection. In it was a photo of William Wagner in his Civil War uniform!!! I have since included that photo in the chapter.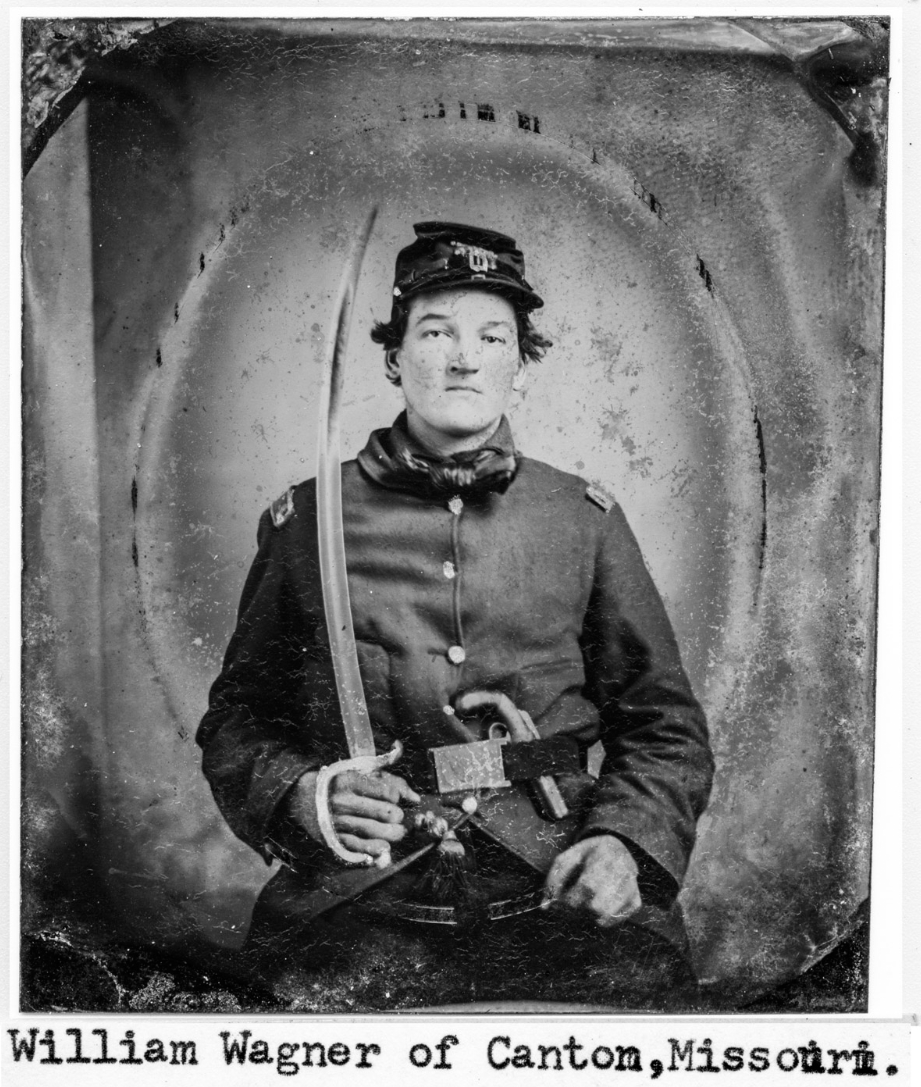 2022 update: I discovered an article about where John Wagner moved to in Warsaw while I was researching George Redeforth (no relation). But it's a very interesting story, and he was connected to our family. Also, I recently found a notice in the Quincy newspaper placed by John Wagner proclaiming his wife Henrietta had left him.
DOWNLOAD Jacob "Old Bill" William Wagner PDF
Link to Old Bill's Photo Gallery
Related Posts