Santa Claus, Indiana founded by John and Dora Hanning
My 3rd great grandparents John and Dora Hanning helped found the town of Santa Claus, Indiana in 1854. Half a century later my great great grandfather Rev. Weiler returned to Santa Claus having married John and Dora's grandaughter Addie Hanning to preach in the church there between 1912 and 1917. FUN FACT: Addie's grandmother, Susan Freyhofer, who moved to Santa Claus about the time it was founded, was born on December 25, 1805 (in Switzerland).
According to family lore, the name Santa Claus came from John's wife Dora:
Grandmother Hanning suggested this name for the town, and it was Grandfather Hanning's strong, sturdy character that had much to do in naming the community. Santa Claus has become a famous center largely through his influence.
And perhaps you know because of the name of the place it has become famous as a post office. At Christmas time hundreds of children, from all over the United States, write so as to get a letter from Santa Claus and it takes all the people in the town to help the post master take care of the mail those few weeks, and now many tourists stop there to see the town.
Paul Harvey even featured The Rest of the Story on his radio show:
Never in history did a town have so much trouble naming itself than the town of…well, that, see, that was the problem. The town didn't have a name–not even an unofficial one. There were many suggestions, but every time somebody made a suggestion, it was discovered that some other town already had that name.
How did the folks find their way to the "nameless town"? Well, people who lived on the gently rolling hillscape of southern Indiana would simply point and say, "Over yonder is the 'nameless town.'" So that's exactly what they came to call it until one Friday night, late in 1852, on Christmas Eve. And this is The Rest of the Story…
The Christmas Eve service had just concluded in the little log church, and everybody was there. [It was] as good a time as any to hold a final town meeting of the year, one citizen decided. As had often been the case through the years of town meetings since the community's founding, there was only one order of business that night: a name for the "nameless town."
All were gathered around the pot-bellied, wood-burning stove. The circuit riding preacher, who had just preached the service, was there, too. He was a popular fellow—the Reverend Christian Wyttenbach. So esteemed was this minister that somebody suggested naming the town Wyttenbach, Indiana. But I think it was the reverend himself who respectfully declined; after all he didn't even live there.
The frustrating discussion continued. Now when I mention "everyone there," I mean everybody; children–although quiet and not participating–children were included. But then, with a chilly December gust, the door of the church blew open. It was the adults who fell silent and it was the youngsters who suddenly came to life. For beyond the picture-framed doorway was a magical scene of snowflakes winking on black velvet, and the magical sound of sleigh bells.
But whose sleigh might it be? All were present, remember–and nobody else for miles and miles around except…that's right. And as the children ran to the doorway they excitedly shouted the name that every grownup was thinking, "Santa Claus!" they cried. "It's Santa Claus!"
Thus one Christmas Eve, 140 years ago tonight, because of some bells that nobody's ever been able to trace, the little nameless town received its name: Santa Claus, Indiana; and it is so named to this day. The population no longer numbers in the dozens–there are 1,200 residents now. And in a sense you might say that there are 12-hundred-and-one. For each and every Christmas season, hundreds of thousands of letters arrive in the town's post office. Letters come from all over the world with but a single name inscribed upon them. The inscriptions are often scrawled in crayon, but the letters are sent in utmost sincerity. Of course, you know what the name is on all those envelopes, and you know why those letters arrive where they do 'cause, well, because you know The Rest of the Story.
Every year since Postmaster General James Martin started it in 1914, volunteers (they call themselves Santa's elves) have sent hand-written replies from Santa to children.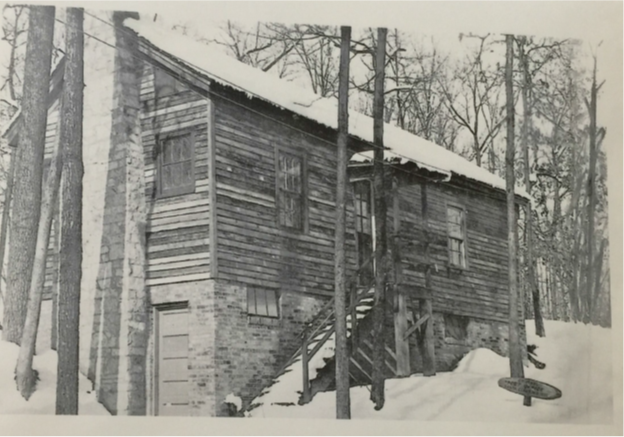 The first Post Office in the town of Santa Claus, built 1856.
John's son Theo was appointed postmaster in 1871.
The town has since morphed into an amusement park centered around Christmas.
Santa Claus, Indiana today
I wonder what the Hannings would think of their little Santa Claus today.
Christmas Lake Village now sits where the large lower right Hanning property in orange was on this overlay of their properties onto Google Maps above. "Christmas Lake Village is a family oriented gated community located in southern Indiana, on the south side of the small town of Santa Claus, Indiana. The community includes over 879 homes, with three lakes available to home and lot owners and their guests only.  Christmas Lake, the largest lake at 200 acres, is a sports lake, with fishing, swimming, skiing, tubing and sailing."
The tiny town that wrote letters back to children has evolved into a huge amusement park centered around everything Christmas.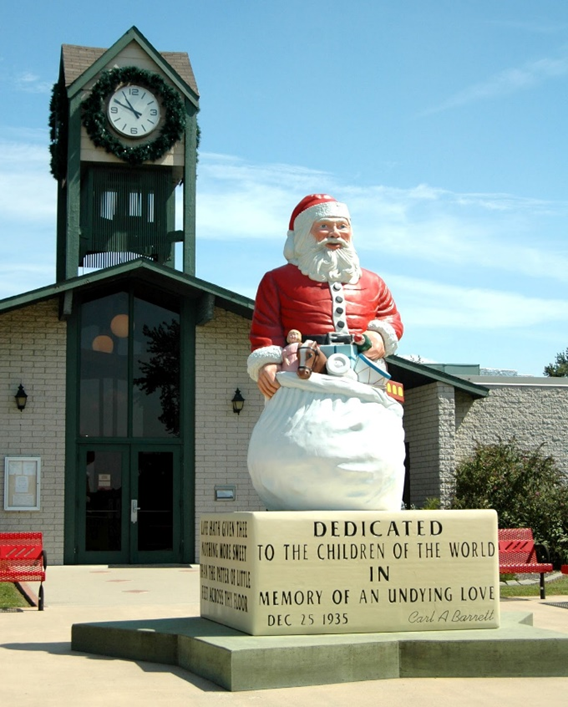 Can you believe it: Robert L. Ripley, of Believe It Or Not fame, poses beside what was believed to be the largest Christmas card in the world on Dec. 23, 1931. At any rate, it was the largest card to clear Uncle Sam's post office, and was mailed from Santa Claus, Indiana. From that point forward, the Santa Claus Post Office would be known worldwide as Santa's Post Office and was often crushed with enormous amounts of mail coming to the jolly 'ol elf. It took an army of volunteers spearheaded by Santa Jim Yellig to help Martin dig out from all those letters, ensuring each and every one got a letter back. Nearly 100 years later, the tradition of townspeople and now Santa's Elves helping answer thousands of letters to Santa from around the globe carries on today.
The whole town's economy revolves around Christmas year 'round. It has become known as "America's Christmas Hometown," and now features street names like Tinsel, Snowball, Garland and Reindeer Run. And right across the road from the old Hanning farm is is now Holiday World Theme Park & Splashin' Safari Water Park with roller coasters and water rides.
Related Posts