Christina Behringer Strebe
In 1891 my great grandfather William Weiler came to America from Germany at the age of 14. He went directly to Lafayette, Indiana to stay with his aunt Christina.
This is excerpted from Reverend William Weiler's autobiography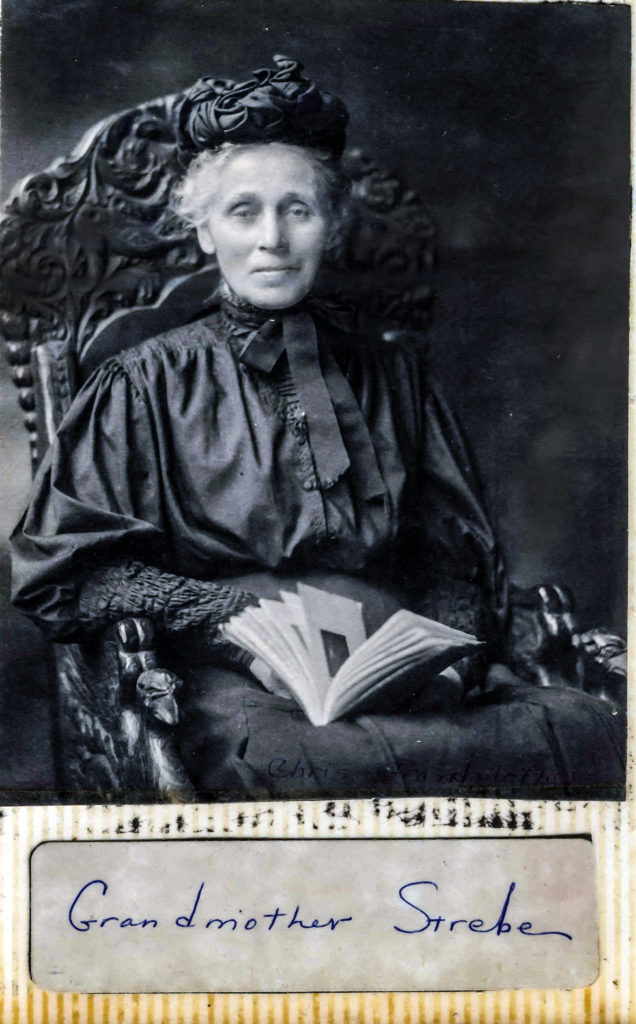 Photos found on Ancestry – originally shared by Jodi Austin
Christina (maiden name Behringer) was William's mother's next older sister who had come to the United States in 1873 at the age of 26.
Her husband, Heinrich (Henry) Strebe, had came to America from Saxony, Germany in 1863 at the age of 27 and immediately enlisted in the Union Army in Milwaukee, Wisconsin during the Civil War. He was a blacksmith and wagon maker. He already had 8 children with his first wife, and Christina married him 3 months after she died in 1877. In 1891 he was listed in the city directory doing business as "Strebe & Messer."
They lived  at what is now 217 Wood Street, "south side Wood, 2 west Chauncy Avenue" in Chauncy (West Lafayette) on the west side of the Wabash River (just below the pink square on the far left in this 1892 map). West Lafayette is the home of Purdue University which opened in 1869.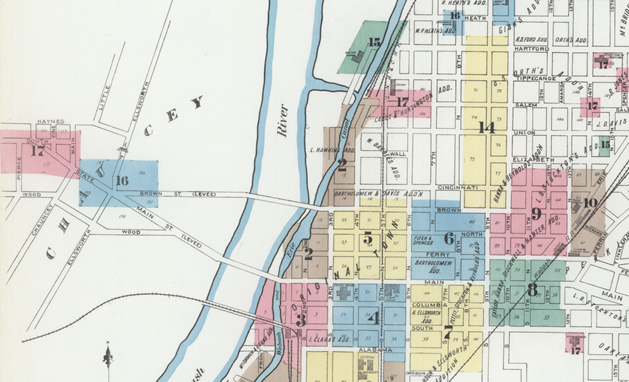 Her husband was a kindly G.A.R. veteran, but, I am sorry to say, given to excessive drinking. As he was a good blacksmith and a congenial man, he could have made a success of his business and supported his family in comfort. But alas! It was the same old story that has been reacted so often down through the years. My aunt tried hard to hold the home together and to rear the children in the way they should go. Young as I was, it did not take one long to size up the situation. I made myself as useful about the house and in the blacksmith shop as I could. I had myself introduced to the American buck saw and to several cords of hard stove wood. Each four foot length of wood had to be sawed into three pieces. I can't recall anymore whether I finished that job, all I do recall that it was a wonderful booster of self respect and appetite, although an appetizer was about the least thing I needed. My aunt was a good cook and I was a good eater. I had no difficulty learning to eat American dishes as I was trained at home to eat what was set before you.

While my aunt's children were generally kind to me they were children nevertheless. Like our modern children they were looking for thrills, and as there were no movies and no radio entertainers in those days they soon discovered that my ignorance of English and American ways might serve to furnish the thrills. They just loved to teach me English to get a giggle out of my pronounciation. The boy, one year younger than myself, would bring his school mates around occasionally and teach me to say things in English that ought not to be said in any tongue. And after I said it he told me what it meant and then they gave me the horselaugh.

As we lived on the West side of the Wabash  [River, which was also part of the Erie Canal system] we had to walk over a mile to our church [German Methodist Church, now Brown Street Methodist Church] and walk through a covered wooden bridge. It was always fun for us to look at the river through the cracks as we crossed. We usually played a little along the way, but somehow we managed to get to S.S. on time.

The school I was attending now, day by day, lasted from morning till night. Night was my only recess. There were always new words to learn and those I had learned to put in use. At the table, moving about the house, around the yard, out on the street, in stores ‑ everywhere I was learning English words and phrases. My "what is this? what is that? How do you say Guten Tag! Guten Morgen! in English? How do you ask for things at the table?" and so on. I must have made a real nuisance of myself. However, most of my "teachers" seemed to enjoy teaching even more than I enjoyed learning. Before long I discovered the similarity between the anglo‑saxon words in the English language and the German, which helped me to remember them more easily.

One day, about two weeks after I had arrived in Lafayette, a huckster wagon stopped in front of the house, with a man of about thirty‑five and a grey haired lady of around sixty‑five on the driver's seat. My aunt came out to meet them and before long she called me from my buck saw and introduced me to Mrs. Lahr and her son Bill, gardeners on the Northside. They looked me over and seemed to think that I might be worth trying as a "garden hand". They would give me board and lodging and $4.00 per month and do my washing. Here was my chance, the chance I was waiting for ‑ a job! Now I could make my own living, stand on my own feet, work myself up.
Download the full PDF: Reverend William Weiler's autobiography
By 1900 Henry was in the Indiana State Soldiers House and died 4 years later. Christina died in 1915.
Related Posts