The Nonie Puzzle SOLVED
For years I struggled to confirm my great grandfather's name. He is listed clearly on one of his children's birth certificates as Nonie Monroe Thornton along with his wife Agnes Elkins. My aunt told me that he had drowned at a young age leaving his wife and 3 young sons. The problem was that I could not find Nonie in any records besides his sons' death/birth certificates, including the 1900 census he should have been in.

Detail of Nonie's son Earnest's birth certificate, which he obtained when he was in his forties, so one would think the information would be pretty accurate coming directly from his son.
I knew who Nonie's parents were – George Washington Thornton and Hattie Graham from family records. I even had a photo of him given to me by my aunt Babe.
Nonie is the one sitting.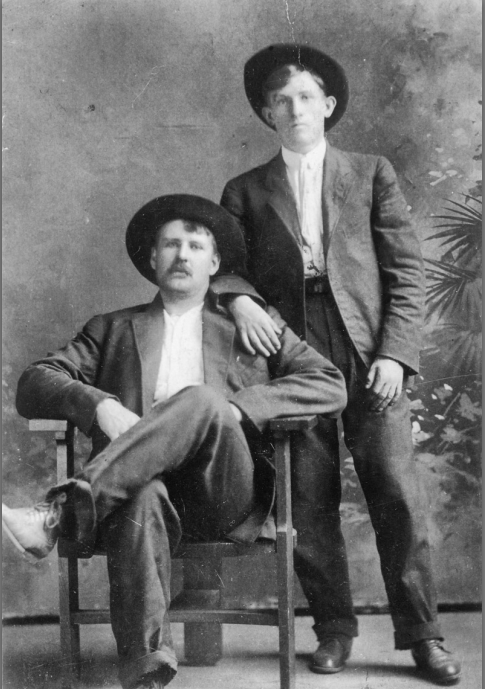 I knew he existed, and I was certain I had the correct family. So why couldn't I find him in any records? The 1900 census for his parents listed 8 children still at home plus the eldest child Robert living next door. Nonie was not among them. He would have been 19 in 1900 so I thought perhaps he had moved out of the house by then.
I had a theory. One of the children listed in the 1900 census was named Giles, born around the same time. Were Giles and Nonie the same person? It was very common for children to go by different names in the census and at different times in their life. But how to prove this? I had no record stating that Nonie was Giles' nickname. I needed something to clinch it before I merged these two individuals (and their wives) as one in my tree.
I even tried verifying whether their wives – both named Agnes – were the same person. Unfortunately Nonie's Agnes died about 10 years after Nonie probably in the 1918 Spanish Flu epidemic, so there are few records for her as well. I could find no record of her lineage other than the one census she was listed in with the three boys stating she was born in Tennessee. However, I did have a record for Giles' Agnes parents' names from their marriage record, but she was supposed to be born in Virginia, not Tennessee, and her last name was Thornton, not Elkins.
Despite the Agnes conflicts, I was still pretty sure Giles and Nonie were the same person:
both born about the same time (1881) just after the 1880 census
both had the same middle initial – M.
Giles disappeared from the records about the time Nonie drowned (before the 1910 census)
both married a woman named Agnes in 1901:

Nonie married Agnes Elkins from Tennessee. Although his sons' birth certificates say Floyd County, Virginia.
Giles married Agnes D. Thornton (a cousin) from Virginia – I had a marriage record naming her.
I could explain away the wrong last name on the sons' death certificates. Death certificates are notoriously wrong because the informants are often spouses or even family friends who don't know the correct information. And even though Giles' Agnes was a Thornton, her mother was an Elkins.
But I still didn't feel comfortable proclaiming Giles and Nonie to be the same person without one more piece of evidence.
And then it hit me. The clue had been in the censuses all along.
The 1900 and 1910 censuses collected two pieces of information most other censuses didn't – the total number of children born to a woman, and how many of them were still living.
In 1900, Nonie's mother Hattie was listed as having 9 children, 9 living. Since I knew Nonie was still alive in 1900 (his last son was born around 1907), and since all of Hattie's 9 children were listed in that census (8 still at home and the eldest living next door), I knew Nonie had to be right there in that record all the time – and his name was Giles.
The clincher was in the 1910 census after Nonie had died – Hattie was listed as having 9 children, 8 living.
So last night I merged Giles and Nonie along with both Agneses.
Related Posts