Earthquake in SW Virginia
Earthquakes are actually common in Virginia. Here's one that would affected my Thornton ancestors in Pulaski County:
May 3, 1897. Centered at Radford, where a few chimneys were wrecked and plaster fell from walls, and chimneys were damaged at nearby Pulaski and Roanoke.  Felt in most of southwest Virginia and as far south as Winston-Salem, North Carolina.  Estimated magnitude 4.3.  This was a prelude to The Big One.1
The quake got little attention:
The Norfolk Landmark, 04 May 1897, Page 4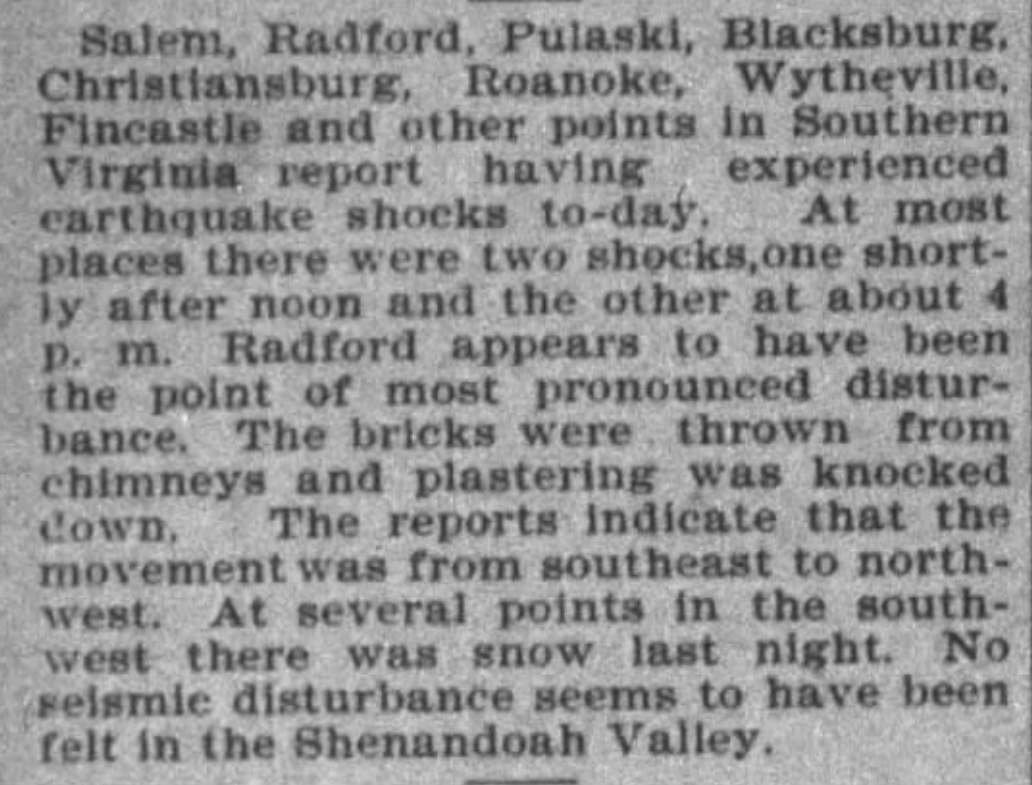 Alexandria Gazette, 04 May 1897, Page 2
But the next one 3 weeks later made page one:
Richmond Dispatch, 01 Jun 1897, Page 1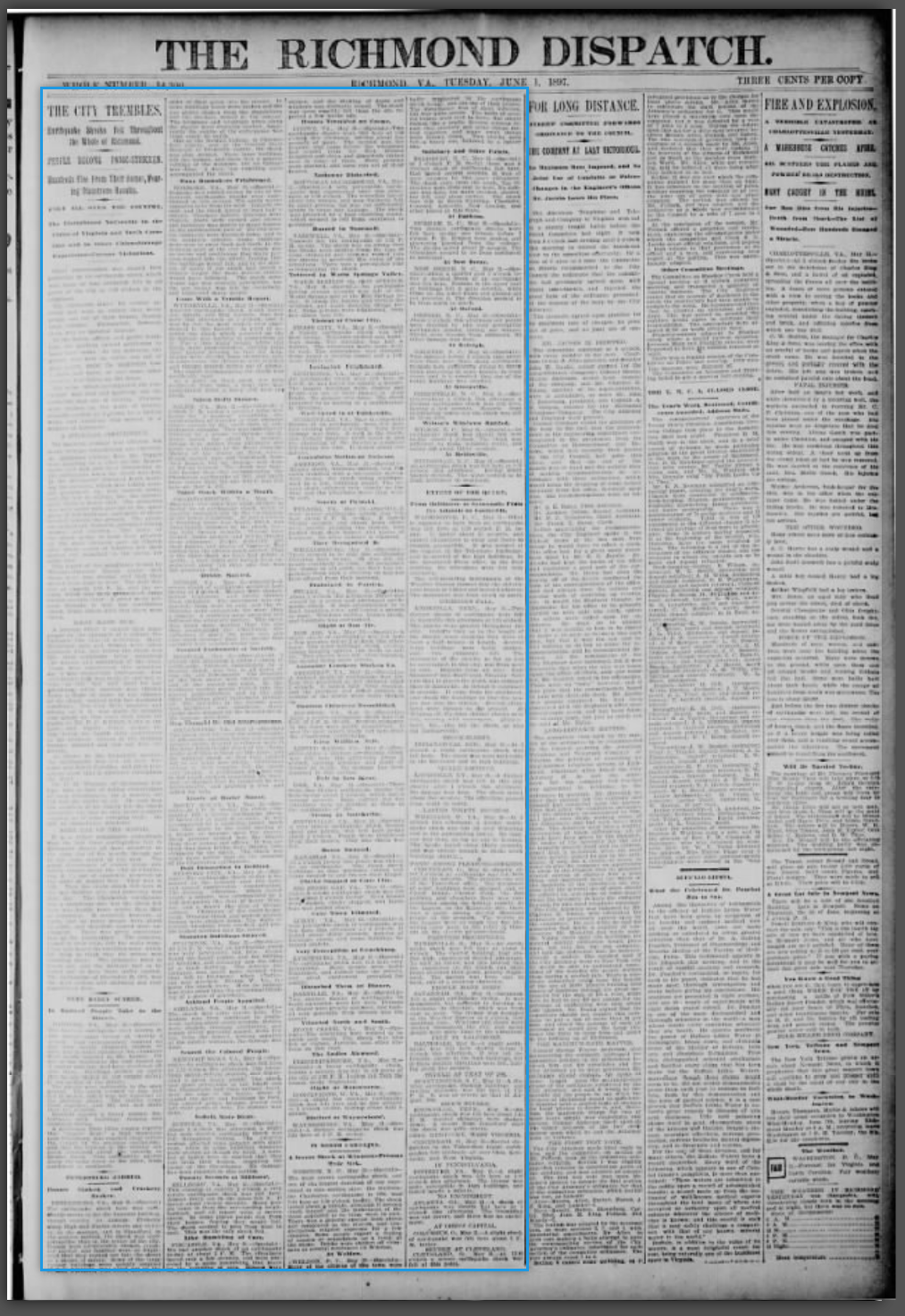 May 31, 1897.  This earthquake was the most intense and widespread in Virginia in historical times, with Modified Mercalli Intensity of VIII.  Felt over an area of 280,000 square miles from Georgia to Pennsylvania and from the Atlantic Coast westward to Indiana and Kentucky, the area of maximum ground motion extended over an area from Lynchburg west to Bluefield, West Virginia, south to Bristol, Tennessee. The shock was felt most severely near Pearisburg in Giles County, where the ground rolled in an undulating motion, water in springs became muddy, and some springs ceased to flow, and a train was derailed.  Walls of old brick houses were cracked and many chimneys were thrown down or badly damaged.  Many chimneys also were shaken down or damaged at Bedford, Pulaski, Radford, Roanoke, and Bristol, Christiansburg, Dublin, Floyd, Lexington, Lynchburg, Rocky Mount, Salem, Tazewell, and Wytheville in Virginia, as well as Charlotte, Oxford, Raleigh, and Winston, North Carolina, Knoxville, Tennessee, and Bluefield, West Virginia.  Aftershocks continued through June 6, 1897.  Estimated magnitude: 5.8-5.9.  This was the second largest earthquake in the eastern United States in the last 200 years.2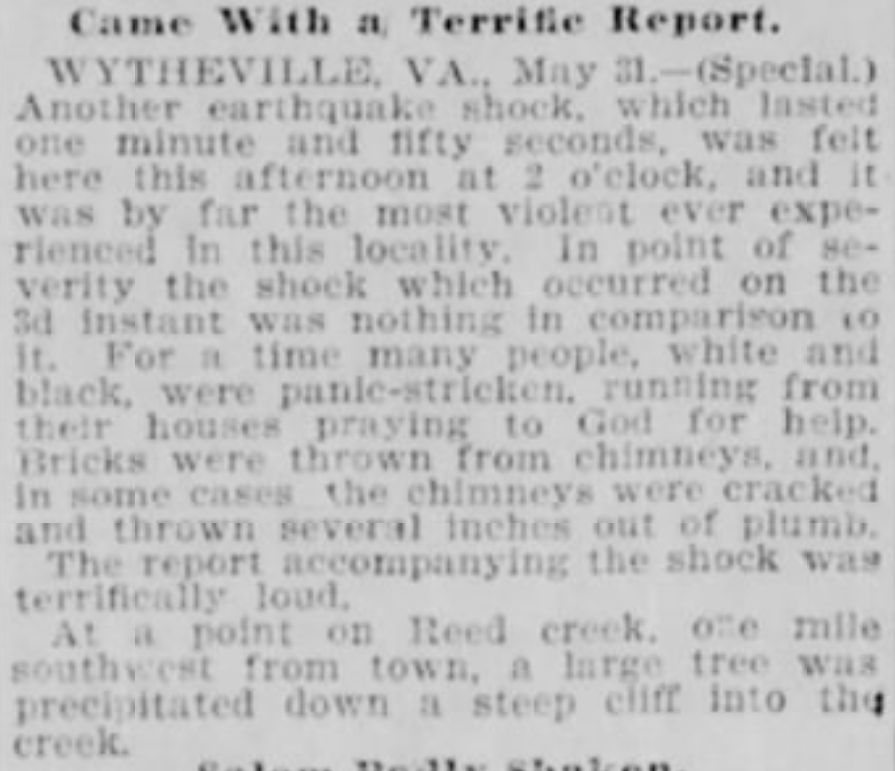 Loud rumblings were heard in the epicentral region at various times between May 3 and 31. The shock on the latter date was felt from Georgia to Pennsylvania and from the Atlantic Coast westward to Indiana and Kentucky, an area covering about 725,000 square kilometers.
It was especially strong at Pearisburg, where the walls of old brick houses were cracked and bricks were thrown from chimney tops. Springs were muddied and a few earth fissures appeared (MM VIII). Chimneys were shaken down at Bedford City, Houston, Pulaski, Radford, and Roanoke. Chimneys were also broken at Raleigh, North Carolina, Bristol and Knoxville, Tennessee, and Bluefield, West Virginia.3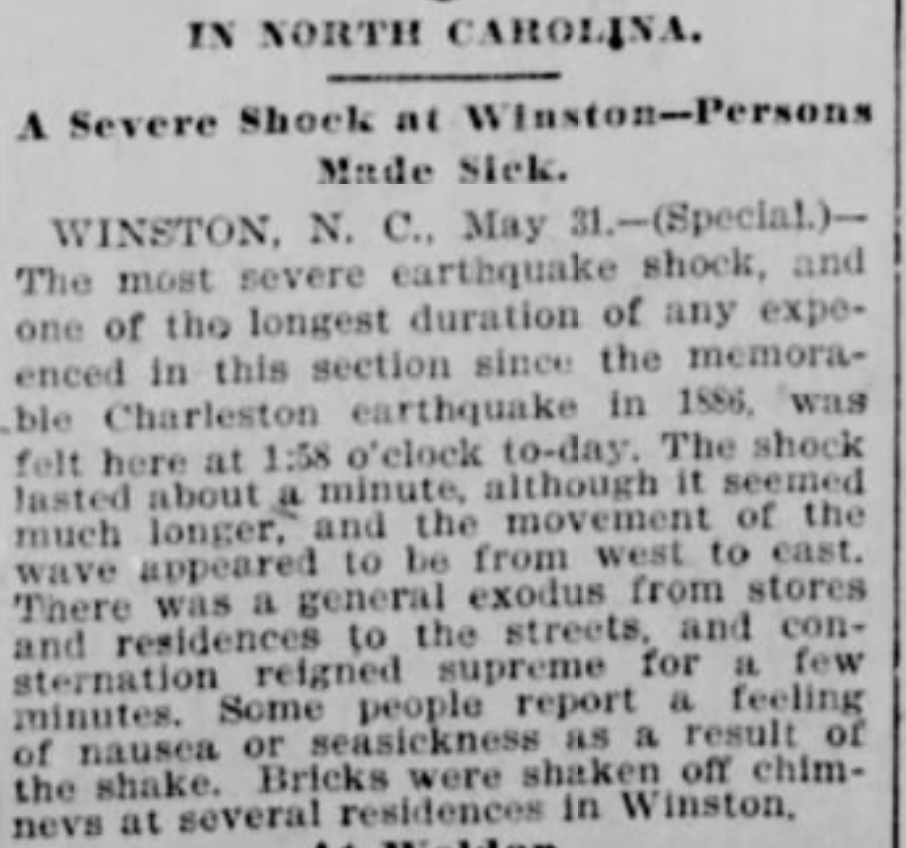 Minor tremors continued in the epicentral region from time to time until June 6; other disturbances felt on June 28, September 3, and October 21 were probably aftershocks. On February 5, 1898, the residents of Pulaski reported additional chimney damage (MM VI). People rushed into the streets at Pulaski and East Radford. 4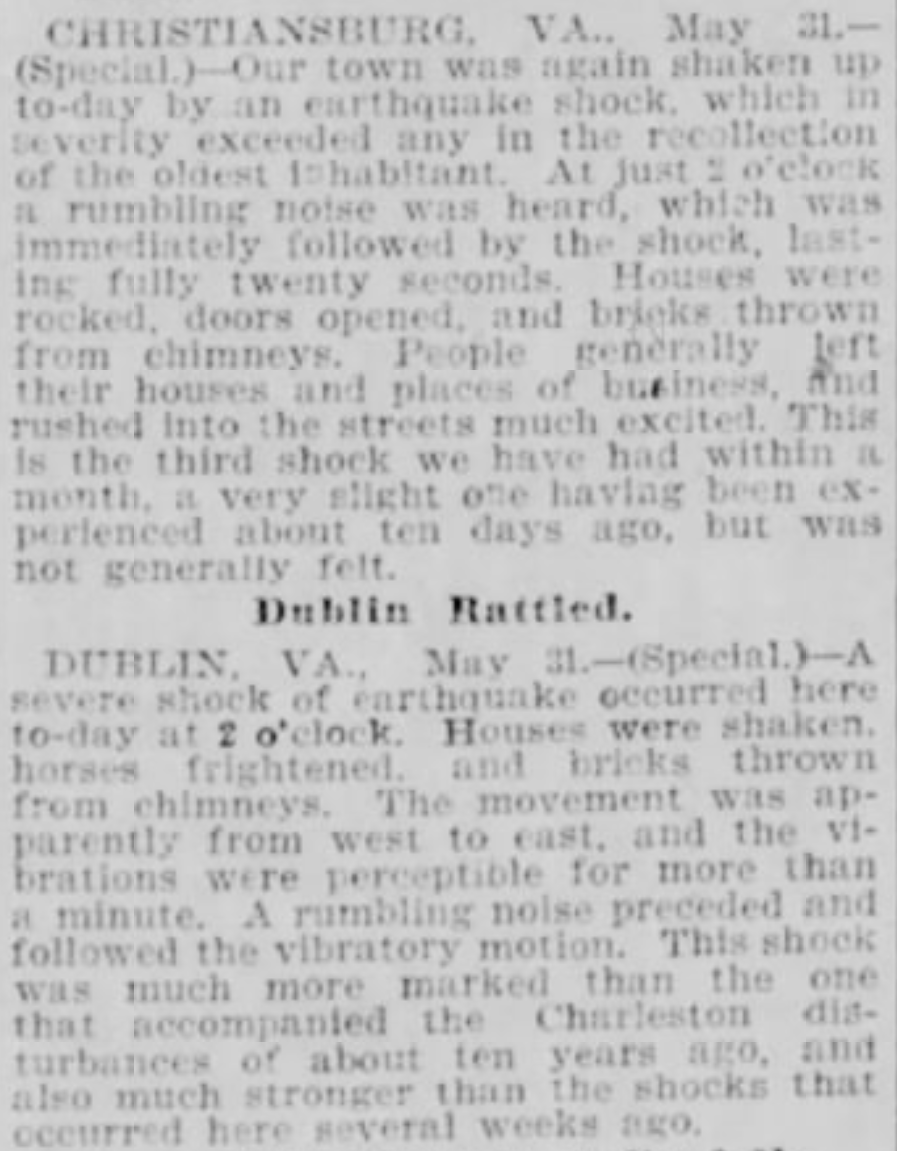 February 5, 1898.  Bricks were thrown from chimneys, furniture was shifted in a few houses, and residents rushed into the streets of Pulaski.  Felt throughout southwest Virginia and south to Raleigh, North Carolina.5
---
Sources and Further Reading:
List of major earthquakes in Virginia
VTSO: Giles County 1897 Earthquake
Related Posts
---