1943 Wagner Family Recordings
Ben Wagner recently found some 78-RPM 8-inch records in his late father Arnold's collection. On them are the voices of our ancestors – my great grandparents William C. Wagner and wife Lilly Giegerich, along with their son William F and Lilly's aunt Tillie Eckert Henry. The recordings were made on Saturday, June 5, 1943, during a trip home by William and Arnold to visit their parents in Canton, Missouri. Other recordings are of the brothers Arnold and Homer playing piano and organ. And then there are two Bunk Johnson and George Lewis recordings made by Bill Russell during the early days of his American Music label (see separate post).
They vary in length from 1:42 minutes to 3:09 minutes. The words are sometimes difficult to understand, so I include a transcription as best as we could make out.
They were recorded on a portable "Recordio" like the one shown below.
In 1939, Wilcox-Gay came out with a home recording machine. A portable unit was available for $74.50. Blank records ranged in price from 75 cents for six 6-1/2 inch disks, up to $2.25 for the same number in the 10-inch size. It recorded directly to a standard 78 RPM record that could be played on any phonograph.
The machine was apparently Homer's, as mentioned in one of the recordings, although I don't think he was present.
A little background about the people in the recordings:
My great grandparents William Charles Wagner and Lilly Cordelia Giegerich were born in Canton, Missouri, a small town on the Mississippi River not far from Hannibal. William was a master carpenter who learned the trade from his father who had come to America from Germany as a child. William and Lilly had four boys – Homer, Russell, Arnold and William.
The Wagners lived in a 2-story frame house at 704 Lewis St., built by William C. in 1904.
William C. (2nd level with apron on), father "Old Bill" Wagner (ground, with beard), building a house in Canton:
I believe the house being built above is this one he built for sisters Ella and Ophelia McReynolds (1000 Bland Street – house gone now), shown finished in his House Book:
Canton was, and still is a quaint Mayberry-esque town with tree-lined streets and neighbors who sit out on their front porches.
Some of the houses William C Wagner and his father built in Canton:
The first two boys Homer and Russell (Bill Russell) were born two years apart in 1903 and 1905. Arnold and William came 9 years later in 1914 and 1916.
The Wagner boys often traveled home to visit.
In 1943, when these recordings were made, only Homer, the eldest, was married. Apparently, Arnold and William had come home to visit, bringing Homer's new recording machine to try out on their parents.
William C. and Lilly died one day apart, 6 months after I was born in 1964, so I never knew them, but I got to know my great uncles and my grandfather Homer. When I first heard the voice of my great grandfather William C., I was struck by how much he sounded like his sons, not surprisingly. My great grandmother Lilly, however, sounded completely different than I expected. Her voice was much higher and sounded like the radio actresses of the day (kind of like Gracie Allen without the nasal).
The way they all joked and talked was so "Wagner" – exactly how I remembered growing up around my grandfather and great uncles. They had a wry sense of humor that you had to know them to understand. There was a twinkle in their eye as they berated and cajoled, mixed with chuckles and deep affection. When the Wagner boys got together, it was always raucous and fun.
The four Wagner brothers: L-R Arnold, William F., Russell, Homer. Taken in Canton, Missouri 
---
36B – "Pop" (June 14, 1943. William C. Wagner tours his carpenter shop)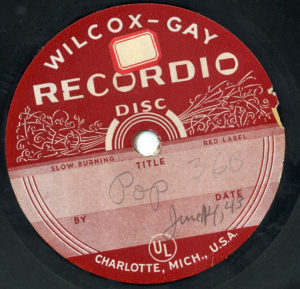 William C. had a small but well-appointed carpenter shop in a shed in the back yard of 704 Lewis St. with his tools and machines (the door to the left of the garage shown below).
He also had a glass business as an extension of his house building.
Canton Press News, Jan. 6, 1936
Present during the recording: William C. Wagner (age 66), his wife Lilly Giegerich Wagner (age 64), son William F. (asking questions) (age 27) and Arnold (did not speak) (age 29)
This one is so familiar the way they speak and joke around and feign anger. Lilly is a hoot just standing by and chuckling, although she seems more fearful of the machines than I would expect her to be considering her husband, his father, children all had been working with the tools for decades.
Warning – the sound of the machines is quite loud and shrill compared to their voices.
WF: Pop, can you demonstrate some of your carpenter shop to us?

WC: This is my machine – I do all my ripping and sash tops, molding and everything.

[LOUD Sound of electric saw cutting through wood]
WF: Just run it through that way? Huh?

[Sound of more cutting]

WC: I guess that's enough ripping.

WF: Yeah? What's this machine over here?

[Crash of glass breaking]

WC: Get away from that box of glass! You broke 5 dollars worth of glass! (feigning anger)

WF: Just the way that I used to work in here and try to cut glass.

WC: _________________

[Lilly chuckling]
L-R (unknown), William C., Lilly, William F. in back yard of 704 Lewis St., Canton, Missouri
WF: What's that thing?

WC: This is a planer. I think you _____ when Russell and Arnold ______.

WF: Yeah, I never saw it work, though.

[Sound of electric planing machine]

Lilly:  Careful, I'm afraid you'll get hurt on it.

WC: Yes, That's Grandpa's old mortise machine.

WF: use that thing?

WC: I was going to sell it for junk, then the planing mill stopped and went out of business, and now I need it. It's a dandy, though, it's the best one I ever _______ [likely implying that it was set up so you could get your hand close to your work and keep it steady]

[Sound of mortise machine]

WF: Working with the sash nowadays?

WC: I'm busy now all the time I'd say, outside work, besides this now, I'm not doing very much.

WF: How's the glass business going?

WC: Fine and dandy.

[Mortise machine sounds]

Lilly: That worries me.  I was scared to death of that. Used to be afraid Homer and Russell was goin' to get hurt with it.

WC: Did you ever see that sander of mine?

WF: No, how does the sander work? Oops – there's that glass.

WC: Now don't get any more glass – bust up more glass.

Lilly?: [Quiet undecipherable comment]

WF: [Sound of glass being bumped into] Oops.

WC: There you go.
WF: What's that for? Hope this isn't turned on. Go head, try it now.

[Sound of machine]
END
---
31A – Pop & Hen – In chicken yard. June 5, 1943
William C. Wagner [Pop] messing with some chickens. Pop and son William F. were having great fun getting the chickens to "talk."
WF: Let's see if we can get Granpappy's – have any better luck getting this chicken to talk.

WC: Go 'head

WF: Come on Chickie, come on. Talk to 'im.

WC: What's a matter with ya? [Chicken squawking]

WF: Come on, stroke it.

WF: That's one [garbed, possibly hollering.] [Chicken squawking]

WC:  What's the matter, you want pettin'? [Chicken squawking] Come on chickie.

WF: [Garbled]

WC:  Come on.

WF: [Garbled, sounds like "mighty big"] matters

WC: Come on fat chickie. What's the matter with ya?

Lilly:  Come on chickie.

WF:   Here's Daddy.

WC: Come on talk. [Chicken squawking] What's a matter, chickie. What's a matter?

??: [garbled] – ?? Very, very … Yeah …

WC: Yeah, Yeah (or well, well) [garbled 3 words], Chickie [more garbled words] Chickie; come chickie, chickie not being any [smart?]. Come here, what's a matter with yah anyway. [Garbled words]

Lilly: Thinks you gonna [garbled, garbled reply by WC.]

WC: Been around awhile.

WF: Yeah.

WC: Chickie

Lilly: Did you get that?

[Sounds of chicken flapping and cackling as they chase it around, laughing.]

WF: Dad

WC: Come on, Git that Chicken! Git that Chicken! Catch it, catch it, catch it. [Laughing] Gonna have it for dinner tomorrow. Catch 'im. Git that other one there. We'll get, we'll get that yella hen, probably(?) looks good.

WF: That yella hen there. [Garbled, multiple speakers]

WC: Oh _____; what's a matter with you? What's a matter with you, how's your throat? [several garbled words].

WC: Come on here, get that yella hen there for dinner.

Lilly: [garbled]

WC: _______ hot chicken dinner _________. Chickens aren't behaving very well today.

WF: Chickens aren't behaving very well today.

END

William F. Wagner and Arnold Wagner, 704 Lewis Street, Canton, Missouri. with their "pets" 1924
---
31B: Wm, R. M & Matilda
Saturday, June 5, 1943. William C., Russell, Mother (Lilly) Wagner & Aunt Clara Matilda Eckert (according to the label). They are feeding the cat.
Tillie (Mathilda Eckert Henry) was Lilly's aunt. She grew up in Canton, but by this time she had married Walter henry and moved to Keokuk, Iowa, a short drive upriver, so it's likely she came down to visit because of the boys being home. Even though the label says she's on it, we can't tell if she actually says anything.
Lilly (L) and Tillie:
This recording is much more candid and less structured than the one in the workshop.
It sounds like they're inside the house, perhaps in the kitchen.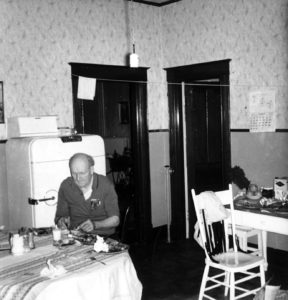 Present: William C., wife Lilly, son William F., possibly Arnold
WC: William, haven't you fed that cat yet? [cat meows]

WF: No, not yet.

WC: Go ahead and feed it.

[Cat meow]

WF: Come on cat, here's some milk.

[Laughing]

[Multiple speakers, distant and garbled]­

WC: William ____

WF: Come cat, say something else. Go on, that's it, say something more.  ______ cat

[Laughing]

WF: Isn't that just like a Wagner not to meow when you want it to.

[Distant Laughing]
[Meow]

[Laughing]

WC: Louder!

WF: Louder!

WF: No, I guess that's a ____ ____. Say something cat.

Meow
They seem to have tired of messing with the cat. William starts to interview his mother Lilly. He mentions his Army Pants – he had joined the Air Corps 4 months earlier.
WF: Well, Mammy, what do you think of Homer's newest phonograph?

Lilly: I think it would have been better if he would stay in bed and rested at that time, rather than working on that.

WF: It's got a good tone, mammy.

Distant voice: ?

Lilly: [Garbled]

WF: What do you think of your two boys coming home this time, ready to go to church tomorrow morning?

Lilly: I think you two boys are a nuisance coming [garbled] at the same time.
Back: William & Arnold Wagner; their mom; Lilly Wagner in yard of their Canton, MO home
WF: Aren't you proud of our nice appearance, Mammy?

Lilly: garbled

WF: Well, what would I have to do to come home and go to church, Mammy?

Lilly: Have some decent clothes with you.

WF: What about my high school suit, Mammy.

Lilly: A little bit too old.

WF: What about my military style pants, Mammy?

Lilly: _______. I have to mend these for you.
WF: What do you think about Rus– Aahh,  Arnold's last letter?

Lilly: [Garbled]

WC: Why won't he try to just call the name [this is a guess] [Garbled]  Russell did it; Arnold [rest garbled; sounds like the name Russell is repeated twice];

WF: Go ahead, Mammy, say something quick.

Lilly: Well, ?? Arnold, Russell

WF: Well, there's only about a minute left on this record.
END
---
36A – "Mamy" – Family stories by Lilly Giegerich Wagner about the "outdoor living room"
Apparently they were sitting outside in the yard for the recording. The weather in June would have been warm in the low 80s.
Uncle Henry she refers to was Lilly's brother.
In the "outdoor living room". L-R: Homer, Louise (Homer's new wife), Lilly, William F., Arnold. ca 1934″
Instead of a family row as William and Russell suggested, I decided a reminiscence would be more appropriate.

Here in what sounds to me like a bird sanctuary, the boys' playground that Arnold and William transformed into an outdoor living room.

L-R Homer Wagner 13; Arnold Wagner; 1 1/2 yrs. 1916 Canton, 704 Lewis

When babies, Homer and Russell had their sand pile here. Russell ____ ate sand while making an awful face.

When older, they built a playhouse. Russell owned only the center post, and when they'd have a quarrel, he'd threaten to take down his post. That of course would always bring Homer to silence. Later their dad got them a good size tent to play in and where they had shows and charged friends for admission.

Russell Wagner and brother Homer Henry Wagner

It was at this time that Uncle Henry presented them with a large American flag which they displayed on a high pole on their playground. This was during World War One, and one night the flag was stolen off the pole.

"Uncle Henry" Lilly's younger brother Henry E. Giegerich, 1933

In later years, Arnold and William played here. They also built a playhouse further back in the yard. They, too, had lots of shows, and when they quarreled and were about to dissolve partnership, Arnold would go to William and say, "William, will you give me just one more chance?"

L-R: William F. & Arnold Wagner; cat; 1924. Looks like a scene out of a Mark Twain book!

They had rope swings on the apple and cedar trees. Also a basket high on the cedar tree for basketball.

And here amidst the flowers, Homer and his bride had their picture taken.

Louise and Homer Wagner. In garden at 704 Lewis, Canton, MO.

In later years, Homer _______________

But now it is rather a lonely spot since all our boys have left us.

"Our outdoor living room"

Backyard Garden; Canton Wagner Homestead, Mo.; summer 1937
Instrumental Recordings – Homer and Arnold
The Wagner boys were extremely talented and schooled in music – Homer played flute, piano and organ, Russell played violin and percussion and recorded other musicians on his American Music record label, Arnold played the organ and piano. I'm not sure if William played anything. Their children and grandchildren inherited their talent and passion for music.
Homer Wagner at the organ ca August 1924 in Canton:
Arnold Wagner at organ of St. Luke's Lutheran Church; Ohio State Univ. 1939:
35A – This is My Father's World – Organ-Piano duet played by Homer Wagner (Organ) & Arnold Wagner (Piano)
33A – There's No Place Like Home (by Stephen Foster) played by Arnold Wagner (piano solo)
33B – "He Leadeth Me" & "Old Folks at Home" (Suwannee River) by Stephen Foster [mislabeled]. Medley played by Arnold Wagner (piano solo)
34A – "Song to the Evening Star" by Richard Wagner played by Arnold Wagner (piano solo).
34B – "Melodie (Elegie)" by Jules Massenet played Arnold Wagner (piano solo)
35B –"Ave Maria" by Franz Schubert played by Arnold Wagner (Piano)
Arnold Wagner, 1st Presbyterian Church, Berwick, PA; organist for 45 years:
Digitizing of 78 records by Ben Wagner. Transcriptions by Diana Thornton and Ben Wagner 2/19/2021.