Bill Russell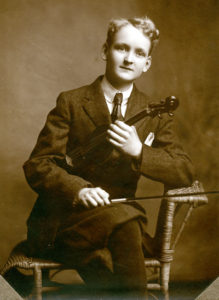 Born Russell William Wagner in 1905, William (Bill) Russell was a violinist; an avant-garde composer deeply interested in percussion; accompanist to a touring puppet troupe; a meticulous musical-instrument repairman; a jazz-record producer; an archivist; a writer; and, above all, a New Orleans jazz collector of extraordinary breadth. More than anything else, he simply loved classic New Orleans-style jazz, which he called the "best music I'd ever heard."
He sought out obscure, old-time jazz players and was instrumental in the revival of the career of Bunk Johnson. Russell privately showed many kindnesses to jazz musicians down on their luck, encouraging their careers. In an age of segregation, Russell had many close associations with African Americans, organizing recording sessions in houses and rented halls because blacks were not allowed in New Orleans recording studios, nor could they play openly with white musicians. He did much to document and advocate New Orleans as the true birthplace of jazz. Although there were some inaccuracies in his early writings-and the debate continues about the many-faceted origins of American jazz-Russell's overall analysis has stood up well against later scholarship. He certainly was one of the first to note the importance of place in the development of jazz.
From the early 1930s to the end of his life, Russell acquired and documented anything he could find related to jazz: oral-history recordings and transcripts, jam-session recordings, musical instruments, photographs, programs, postcards, ads, city guidebooks, correspondence, sheet music, magazines. He was the first archivist of the Hogan Jazz Archive at Tulane
University, where he personally recorded many of the early oral histories of jazz greats and of unknowns.
Bill Russell tended to work quietly in the background, equally willing to help the jazz novice and the expert musicologist. His obituary in Jazz Journal International noted, "Bill Russell was a gentle and selfless man with no interest in fame or financial gain. He lived very simply in a small French Quarter apartment that had no telephone, no air conditioning and a door bell that did not work."2 Russell freely and generously shared his knowledge and his collection with all who wrote him or came to visit him. He paid even the most famous musicians for anything that they did for him, eschewing any significant financial gain from his interest in jazz. Later in life, he was a fixture at Preservation Hall in New Orleans: taking tickets, selling records, conversing with anyone interested in jazz, working on writing projects, and above all simply listening to the music; he has been called the club's spiritual godfather. After his death, over 36,000 items from his personal collection-reported to weigh eighty-six tons-were transferred to the Williams Research Center of The Historic New Orleans Collection.3
A timeline of Bill Russell's rich life in jazz precedes the annotated bibliography, which includes material written by and about Russell: interviews, notable scores, and books that use his jazz collection as a major resource. Audio recordings, most published under the American Music label, are not included, as these are already well documented elsewhere.4 Annotations focus on the information about Russell in each item. I am William Russell's nephew, sharing his original surname, Wagner. (source: grandson Ben Wagner)
---
William "Bill" Russell was an American music historian and modernist composer. Named Russell William Wagner at birth, when he decided to become a classical music composer, he dropped his last name—as it already "was taken" by Richard Wagner.
Bill Russell was a leading figure in percussion music composition, influenced by his acquaintances John Cage and Henry Cowell.
Bill Russell was mostly known as one of the leading authorities on early New Orleans jazz. He authored articles and books and founded American Music Records, which helped bring many forgotten New Orleans performers, including Bunk Johnson, back to public attention. He became an important force in the New Orleans jazz revival of the early 1940s.
He moved to New Orleans in 1956, settling in the French Quarter, where he opened a small record shop and from which, he also performed violin repairs. Russell also played violin with the New Orleans Ragtime Orchestra.
In 1958, Russell co-founded and became the first curator of The Hogan Jazz Archive at Tulane University.
Russell collected a large quantity of material related to the history of New Orleans, early jazz, ragtime, blues, and gospel music, all of which he kept in his French Quarter apartment.
His obituary in The Times noted that: "Russell was the single most influential figure in the revival of New Orleans jazz that began in the 1940s."
http://en.wikipedia.org/wiki/Bill_Russell_%28composer%29
Go to his Photo Album (requires password)
Related Posts