Search result for " Helen Strawser "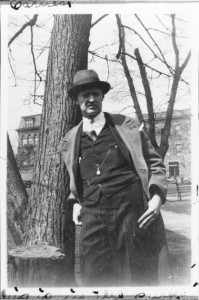 Ernest Monroe Thornton was born in 1902 in Radford, Virginia. At a young age his father drowned and his mother died of pneumonia. Around the age of 20 he moved to Pittsburgh for a better life. Helen Lucille Strawser was born in Preston County, West Virginia. They met and married and started a family. Ernest worked as a watch repair and maker and the family appeared to be doing well in North Side, Pittsburgh, PA.…
1928 is about when my grandparents Earnest Thornton and Helen Strawser connected in Pittsburgh. Earnest is listed in the 1930 census living on North Side. My Eckert, Giegerich, Weiler and Wagner ancestors were also here at that time.
I discovered that multiple branches of my tree lived in North Side, Pittsburgh, Pennsylvania where I was born at exactly the same time. They probably were riding on the same trolleys and shopping at the same stores. Earnest Thornton and Helen Strawser, my paternal grandparents, moved to North Side Pittsburgh around 1929 to find work. William Weiler and his daughter Louise Weiler (my maternal grandmother), moved to North Side Pittsburgh in 1927 to pastor a…